Douglas High's Carter Bleeker (6) tags out a Galena baserunner at third base Wednesday. Galena got the better of Douglas by an 8-4 final.
Photo by Ron Harpin.
A rematch of the 2021 Class 5A regional baseball play-in game had a lot more meaning Wednesday at Douglas High School.
In fact, the outcome has shaken up the 2022 tournament as No. 6 Galena took down No. 2 Douglas, 8-4, on the Tigers' home field in the second round.
The Grizzlies – who lost to Douglas in the 2021 play-in game – move into the regional semifinal and will travel to No. 1 Reno tomorrow in the regional semifinal.
Meanwhile, Douglas drops into the consolation bracket and must win three games in order to qualify for the state tournament.
Now, the second-seeded Tigers have to regroup quickly for a stretch run with their season hanging in the balance.
"We get to play at home. We have plenty of pitching left," said Douglas head coach Ryan Gonzalez. "I like our chances at home, always."
Thursday, No. 5 Spanish Springs (16-14-1, 9-7) will come to town for another 4 pm first pitch.
A win will continue the Tigers' postseason journey while a loss will conclude their season.
Grizzly upset
A back-and-forth affair all changed in the seventh inning.
Douglas' Gabe Natividad had tied the contest up at 4-4 in the bottom of the sixth, following Galena taking a 4-3 lead in the top half of the frame.
The senior's double into right field looked as though it had flipped confidence in favor of the home dugout.
"We opened it up there. I felt really confident in winning the game, but it didn't happen that way. That's baseball," Gonzalez said.
Galena – coming off a 7-6 win over No. 3 Bishop Manogue the day prior – was tasked with getting around Natividad on the bump after he took over in the middle of the sixth with Douglas trailing, 4-3.
The senior, who had allowed five base runners pitched in 13.1 in this season, recorded three straight outs to get out of the sixth.
In the seventh a leadoff walk, a double and an intentional walk gave the Grizzlies the bases loaded to with no outs.
Ultimately, Galena needed one swing as right fielder Rocco Crow put a grand slam over the left field wall, giving the Grizzlies an 8-4 lead.
"We were just trying to get a double play out of that," said Gonzalez of the intentional walk. "We were trusting our guy. (Crow) tomahawked it. … Rocco Crow is a good hitter."
The loss is Douglas' second (12-2) this season on its home field.
Next steps
It'll certainly be a tough loss to swallow for the Tigers, but one that is potentially only 48 hours from being a distant memory.
In order to make it to the state tournament, Douglas will need to win its next three contests over the course of the following two days, starting with the Cougars Thursday.
Should Douglas advance Thursday, the Tigers will meet the winner of Thursday's other regional consolation game – No. 4 McQueen at No. 3 Bishop Manogue – in a consolation semifinal Friday at 1 pm
With another win Friday, Douglas will have to beat the loser of Reno/Galena in order to secure a trip to Peccole Park and punch a ticket to state.
The consolation final is set for 4 pm Friday.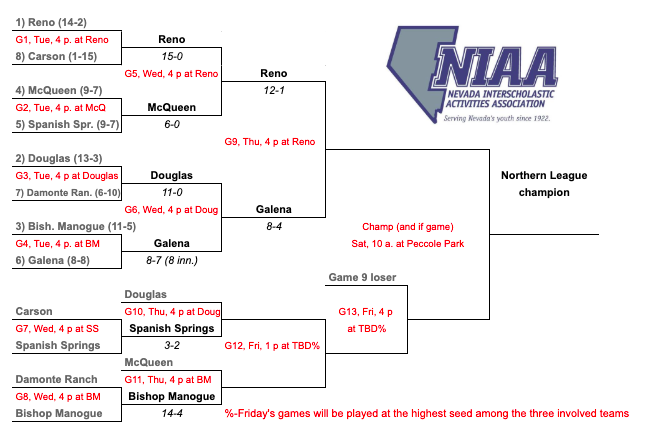 (The Class 5A baseball regional tournament. / Courtesy NIAA.com)
Thursday's matchup
Douglas will turn to sophomore starting pitcher Keegan Snooks, who has been the definition of consistency this season.
Snooks boasts 2.08 ERA, and with the exception of one inning against Reno, has allowed two earned runs over his last 32 innings pitched.
It'll be Snooks' first start against Spanish Springs this season.
"We've got to come out and swing the bat. … Snooks is going to put us on his back and we're going to fight to try and win a ballgame," said Gonzalez.
Spanish Springs beat Carson, 3-2, in the first round of the consolation Wednesday after falling to McQueen, 6-0, Tuesday in the opening round.
The Tiger head coach said he expects to see Cougar left-hander Gavin Moreno on the bump tomorrow.
Douglas is 2-1 against Spanish Springs this season and saw Moreno in the most recent meeting between the two squads.
In five innings, Moreno struck out five hitters and walked none while Douglas managed five hits and two earned runs.
The Tigers went on to win that game 7-6.
First pitch is scheduled for 4 pm in Minden.