Duong Thuy Vi celebrates victory at the 2017 SEA Games in Indonesia. Photo ngoisao.net
In two decades involved in wushu, Vi has been on top of the podium at all competition levels, but is still hungry to win more titles.
"It has been more than four years since my last SEA Games. I aspire to be back on the competition map, returning to big tournaments and meeting my rivals," said Vi.
Vi was unexpectedly dropped at the 2019 Games as the host the Philippines refused to organize many women's taolu (performance) events, including qiangshu (spear) and jianshu (straight sword) for which Vi is the reigning champion.
The COVID-19 pandemic has also played a key part in keeping her home as all international and local wushu tournaments were canceled.
The 31st SEA Games which was first scheduled for the end of this year has been delayed until next summer.
In Hanoi, Vi is expected to protect her two crowns while winning the changquan (long fist) title for the first time.
golden girl
As a child Vi visited a martial art club and fell in love with the charming colorful embroidered outfits and beautiful moves. Days later the small-sized seven-year-old became a member of the club, impressing her coaches with her long legs and resilience.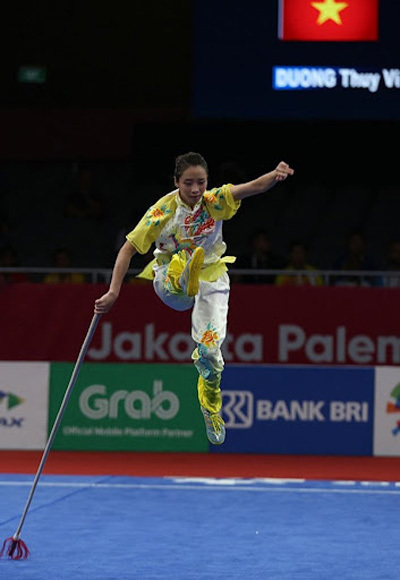 Duong Thuy Vi performs in the women's qiangshu event at the 2017 SEA Games. Photo baobacgiang.com.vn
It took her three years of hard work before she gradually started to dominate national tournaments.
Since then, Vi has owned many titles including two golds, four silvers and three bronzes at the world championships, one gold at the Asian Games and four golds from the Sea Games. Vi has been something of a golden girl for Vietnam, at least according to the color of most of her medals, and takes her victories as a sign of success for the country.
"I have been member of the national team since 2007 when I was 14. I have taken part in many international events but never set gold as my target. I just asked myself to perform my best, otherwise, thinking too much about top positions would make me forget my moves," Vi said.
Her first SEA Games in 2011 saw her win bronze in the jianshu-qiangshu combined event in Indonesia. Two years later, she made a big jump to take gold at the regional biennial for the first time.
"I could not believe it, winning gold in Myanmar in 2013. I just focused on my performance and did not care how my rivals did. But I won and it was the first gold for Vietnam," she said.
"I also won Vietnam's first gold at the 2014 Asian Games, and 2015 and 2017 SEA Games. It is exciting to think of what I kick-started for my country. It seems that Lady Luck is on my side."
Upcoming SEA Games
Like many athletes, Vi has had her fair share of injuries. She has had a problem with her knee for a long time, which doctors say will only totally recover when she retires.
But Vi has not thought about resting yet, still loving to practice and compete.
"Injuries are a nightmare and my knee injury is still here. I cannot rest and wait until it recovers as I have to practice and receive treatment at the same time. I try hard and work hard every day," she said.
"Wushu requires high accuracy. You can perform less beautifully than others but your performance must be complete. It is better than a high-quality show with even a small mistake, which means a minus point and you are out.
"A gold medal is what athletes all want but for me I have to win myself first, and making no mistakes is a good first step. I also must have a stable mind while doing my performance because sideshows such as supporters' cheering can make me excited and not control my moves well, easily leading to errors."
Vi has not set a target at the coming SEA Games but confirmed that she still has a chance to win despite her age.
"I could have retired when I was 24 because I had earned all levels of gold medal. Many of my teammates and rivals rested when they were 20 or 21, and some at 23, while I am 28," she said.
"I am still on the map because I know I can win medals. I have never allowed myself to rest after victory. I keep my aspirations alive and compete with all my heart to conquer new heights."
She still fits in an eight-hour practice schedule every day, all-year round.
There is a big mirror at the national team gym where Vi watches herself every day and sees her youth, sweat and blood eking away in her pursuit of personal glory and being the pride of the nation.
"My youth and my time is all given up for wushu. But I feel lucky to be an athlete because if I did not practice wushu I would be a normal person," she said.
"I don't have any other talent. I can't sing or draw, even though I learn drawing when I was small. I don't even have girly hobbies like shopping or make-up. After 20 years I cannot imagine myself in a different role. Wushu is a milestone in my life."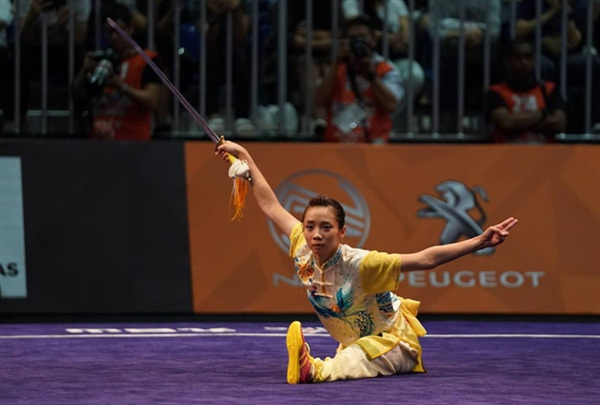 Vi hopes to be a coach in the future and train quality athletes for Vietnam. Photo doisongvanhoa.com
The two-time world champion understands that what she has achieved is due to hard-work and the strong support of many people. And she has decided to contribute further, now also taking charge of instructing young athletes as a step in preparing herself for a coaching job in the future.
"Along with practicing, I have taken part in courses for coaches. I dream of helping talented athletes for Vietnam in the next couple of years," she said.
Source: Vietnam News

Vietnam's best wushu taolu artists and preparations for SEA Games
Following are some of the best wushu taolu artists in Vietnam and the wushu taolu team's preparations for the upcoming SEA Games 30 which will take place in the Philippines in November and December.
,